Staff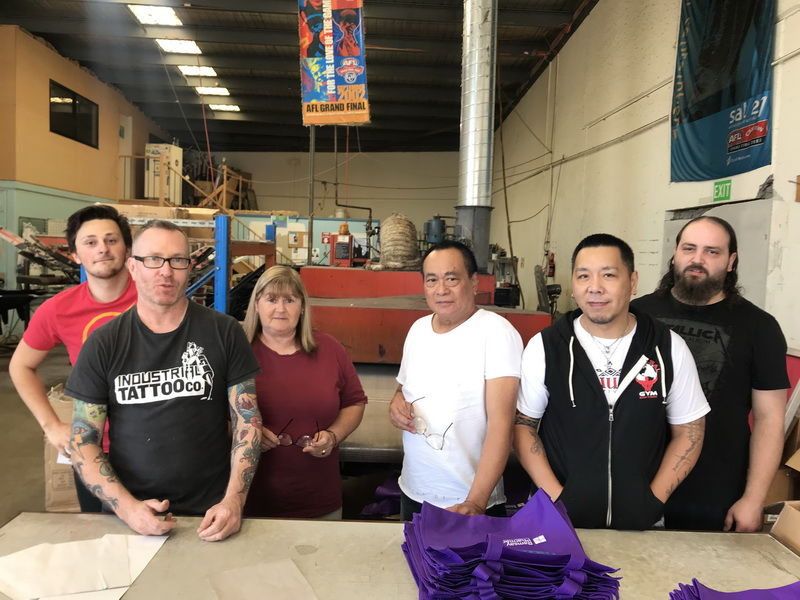 From Left to Right
Sam - Our newest member only been with the company a couple of months, so he has not been corrupted yet. Sam will be taught all that the crew knows about screen printing and pad printing he is the newbie Gromit.
Neil - Ex glam rocker/cross dresser/pad print guru. Neil has been with KIA for 13 years and he is not brain dead! Don't know how he has survived maybe it's the muso in him, as he can still smash out a 70's riff with his eyes closed.
Sue - Thank god for Sue. She keeps us all in line, runs the transfer section, don't ever, ever try to tell Sue her job or she will rip your head off. Sue has been with KIA for over 9 years.
Bong - Or as I like to call him Yoda, the wise man of screen printing. Yoda has been with KIA for over 10 years he heads up our hand printing section, there is nothing he does not know about screen printing, how long he has been screen printing for? Well it is myrhical only a true Jedi Knight would know, but word has it he printed the "War is Over" tees back in 45.
Sal - Machine operated, experienced, we think he was Yoda's 1st apprentice. Sal has been a screen printer all his life, the poor bugger, but he knows his way around the auto, says it's "The Force" He has been with KIA for over 6 years.
Joe - Our gothic machine operator, Joe is from the dark side. Quite does his work and just smiles, all a bit scary really. Joe joined KIA back in 2014 he is now no longer considered the newbie.